---
Exclusive Feature: Where Eagles Dare - SU Agen winger Kevin Swiryn flying the flag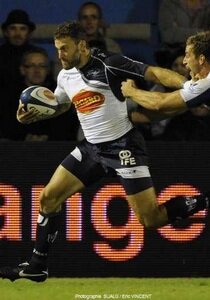 Soaring Eagle: Agen's American
winger Kevin Swiryn in action
Photo: Eric Vincent / SU Agen
Seven years ago Kevin Swiryn was a talented American footballer pursuing his sporting dreams courtesy of a scholarship at St Mary's College in California. As a wide receiver he had pace, nimble feet, good hands and a knowledge of the game – all valuable attributes - but then fate played its card. St Mary's were boxing above their weight and couldn't afford to continue funding their successful but over-stretched team. The football budget was terminated, the entire programme closed down and the dream appeared to be over.
As 19-year-old Kevin pondered his future, and considered switching universities, he took up an offer from two friends to join them for an afternoon of rugby – a sport he had never seen, let alone played. Within a week he was hooked, within a year he was touring with America's combined universities side, and by the age of 24 he was a fully-fledged international after making his debut for the US against Ireland in Santa Clara.
Two years later and he has come to the end of his first season with SU Agen, the historic French side which has managed to retain its status in Top 14 at the first attempt after gaining promotion as ProD2 champions.